24hr Express Service
In an ideal world 5 working days would be fine, but if you need your plan in a hurry you can have it in your inbox in 24 hours.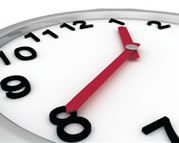 Frequently Asked Questions
Q. What is a lease plan?
A. A lease plan is an accurate drawing which indentifies a leasehold demise within a property.
Q. Why do I need one?
A. In order to complete the sale of your property you may need a lease plan if you are selling it with a new 99 year lease or if you are increasing your lease length – for example from 65 years to 99 years – or you've extended your flat and the demise has changed.
Q. I already have a lease plan, why do I need another?
A. This may be because your existing lease plan does not comply with current regulations: Land Registration Act 2002. www.landreg.gov.uk
Q. What makes a plan compliant?
A. Compliant plans must be drawn to a recognised scale in metric units (feet and inches are no longer accepted!), show the demise within the building and the building within the context of the surrounding areas, have the full address, have the floor level, scale bar and north point. They should also include any demised outside space, rights of way and correct colouring. Have a look at our examples or for further info visit: www.landreg.gov.uk
Q. I have an estate agents plan of my property already, why do I need another plan?
A. The estate agent property marketing plans are not always accurate or drawn to a recognised scale so may not be compliant.
Q. What is CAD?
A. It is Computer Aided Design, think of it as a computerised drawing board. We use the industry standard software called AutoCAD.
Q. How long will it take?
A. The whole process takes between 3-5 days depending on access. The survey itself for a typical 1-2 bedroom flat is normally 1-2 hours.
Q. How much will it cost?
A. Prices start from £200 exc vat; this cost is based on a typical studio or 1 bed flat. If you would like a quote please complete our quote form.
Q. What areas do you cover?
A. We cover the entire UK.
Q. What other services do you provide?
A. We also provide property marketing plans and measured surveys for plans, elevations & sections.
Q. How will I identify you?
A. All our surveyors carry both a company photo I.D and personal I.D.
What People Say
"The first people we call for floor plans. An excellent service delivered fast."
Cherryman
"Bearing in mind the the time restraint we were under you certainly exceeded my expectations and delivered the plans under very aggressive timescales. Very happy to have used you and would most certainly recommend you and use you again."
Ms T Kirkpatrick
"I always think of you for lease plans/measured surveys."
Nick Weir – Shelly Sandzer